Follow along with our Convention — check out our Facebook Live Stream — link will be here when live!
Use #Commit2Community on Facebook and Twitter to be a part of the action online!
Sign up for our email list here.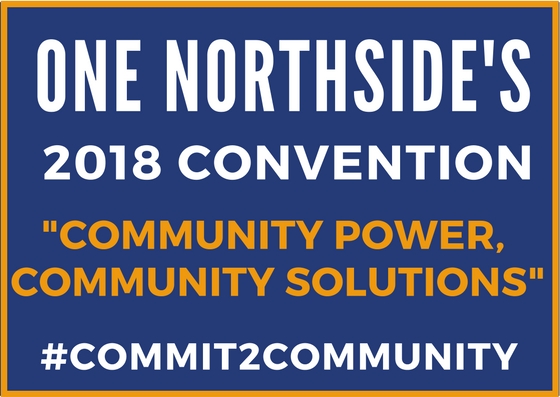 The 2018 Convention: Community Power, Community Solutions is Sunday, May 6th, at the American Islamic College (640 W. Irving Park Rd, Chicago, IL 60613) from 2:30 pm-5:00 pm.
RSVP for Convention 2018 Here.
What is a Community Convention? 
At ONE Northside's 2018 Convention, a thousand people from across the North Side of Chicago (church groups, college students, people living in affordable housing, homeless people, staff and clients at local social service agencies, and other community members who value a diverse and inclusive North Side) will gather together, along with our elected officials and other decision makers. The Convention is an opportunity to tell the elected officials that represent our communities our priorities — from police accountability in Chicago to creating a fair tax in the state of Illinois — and demand action.
The name of our 2018 Convention is "Community Power, Community Solutions"  because our community has the solutions to problems on the North side of Chicago. Through the power shown at our Convention, and the organizing that we do every day, we make those solutions a reality:
Rent control is one of these community solutions.
Real police accountability is the only way to create a safer Chicago for all. 
Universal Healthcare should include Mental Healthcare.
We can't afford austerity — and we can create a state where everyone thrives.
Parents and students deserve well funded and resourced public education for all.
In Attendance:
Congresswoman Jan Schakowsky, Sen President John Cullerton, Representative Gregory Harris, Representative Will Guzzardi, Representative Kelly Cassidy, Representative Sara Feigenholtz,  Alderman Tom Tunney, Alderman Scott Waguespack, Alderman James Cappleman.
Join us at the Community Convention on May 6th if you want to stand with your neighbors for a community where everyone has the opportunity to thrive, and we fight for justice together.
Other Information:
Childcare and translation (Spanish and Cantonese) provided.
Transportation to the Convention available — see details on flyer.
Accessible entry–thru lot on Bittersweet Place.
Flyers:
English flyer w/ bus information is here — make sure to print double sided so that the transportation info is included!
Spanish flyer is here.
Half sheet English version of flyer (for distribution) is here.
RSVP for Convention 2018 Here.
—
Thank you to our sponsors: 
Gold Level:
NHP Foundation
Next Level Health
Bronze Level:
Jane Addams Senior Caucus
Applegate & Thorne-Thomsen
Ryan Williams State Farm Insurance