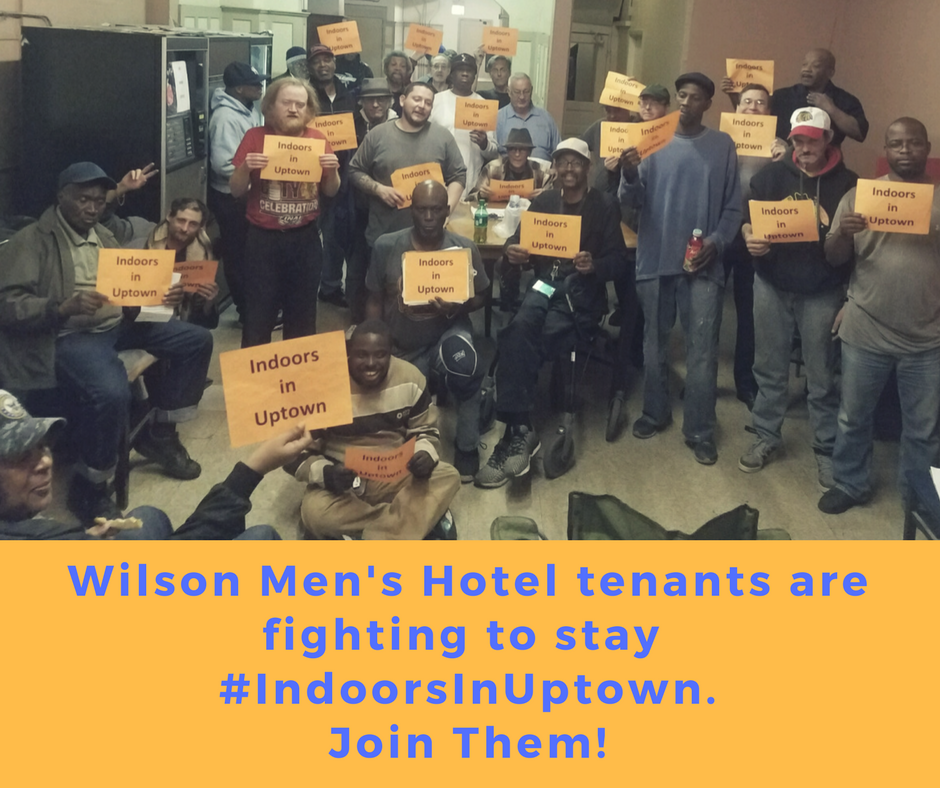 Please sign the petition to make sure Wilson Men's Hotel Tenants can stay on the Northside.
The Wilson Men's Hotel is 250-unit Single Room Occupancy (SRO) Hotel in Uptown. SROs are one of the few sources of naturally occuring, un-subsidized affordable housing in our City, and on the Northside especially. They are a critical resource for low wage workers, veterans, people with disabilities, the formerly homeless, and seniors, and are a bulwark against further segregation in Chicago.
City Pads' plans for the building call for displacing all the current residents and taking away at least 230 units of affordable housing. This threatens hundreds of people with homelessness and is a terrible blow to Uptown, one of the few diverse neighborhoods in our City. Chicago is otherwise one of the most segregated cities in the US.
It didn't have to happen this way. Non profit developers were pursuing a deal with the former owner to purchase, rehab, and preserve it as 100% affordable housing, when City Pads purchased the building through a loophole in Chicago's SRO Preservation Ordinance.
City Pads has said they "are dedicated to collaborating with ONE Northside and current tenant associations to create a desirable, effective and safe relocation plan for current residents" and "look forward to working with our neighbors and residents every step of the way". However, they refused to meet with the tenants association until we applied pressure.
Please sign the petition to make sure Wilson Men's Hotel Tenants can stay on the Northside.
When they did meet, they provided the attached relocation document, but refused to negotiate with us on the terms, or answer questions about it in any depth. For example, they didn't say when the process will start or when they expect it to end. Furthermore, though the plan is in writing, it's not legally binding in any way. They also said they intend to give 30 day lease termination notices, but that they won't follow up with court evictions on those are "cooperating" with the relocation process. While that might sound good, in practice is creates an ambiguous situation that leaves tenants extremely vulnerable.
The Tenants' goal is to stay sustainably housed on the Northside of Chicago. Many of them have lived here for decades, and rely on the jobs, public transit, services, and networks in these communities to survive & thrive.
Help them stay #IndoorsInUptown by signing this petition.
— Noah Moskowitz, Housing Organizer
PS — Once you've signed the petition, can you help us amplify by sharing this petition on social media?
Click here to share on Facebook.
Click here to share on Twitter.